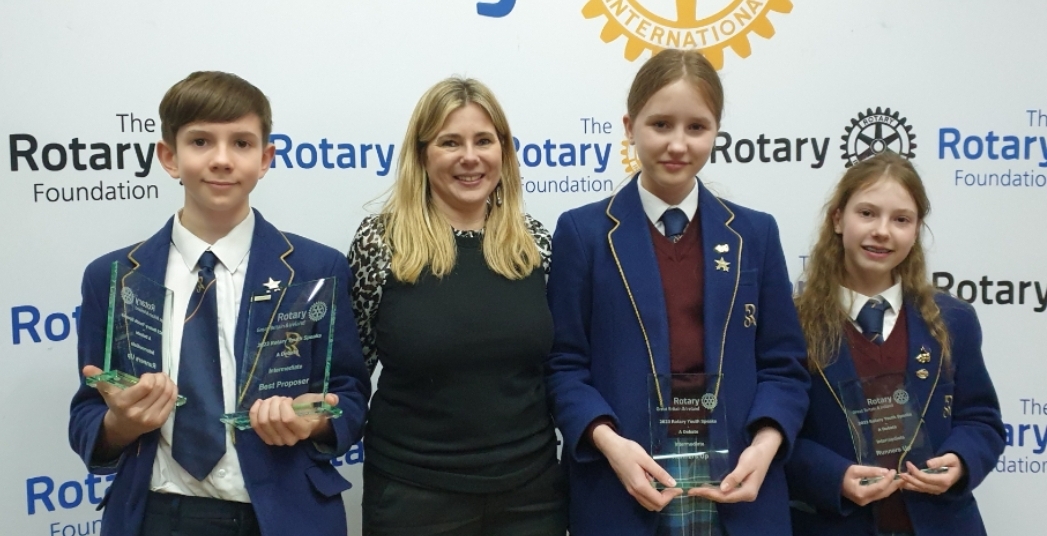 Three of our pupils have been named as runners-up in the final of the National Rotary Youth Speaks Competition held on Sunday, 23rd April in Rugby. The pupils, William (aged 13), Mia (aged 13), and Sophie (aged 12), competed against five other teams from as far as Scotland and North Wales and despite the high standard of competition, were able to hold their own and emerge as strong runners-up.
The Youth Speaks Competition is a highly acclaimed yearly national public speaking competition hosted by the Rotary clubs across the whole of Great Britain and Ireland. Each team that takes part has to win local and district stages before progressing to the higher rounds.  The Rookwood pupils proposed and opposed the motion 'Let's Ban Fairy tales".
The judges at the National final were impressed with the pupils' performances and took over an hour to make their decision, which is a testament to the high level of talent and skill exhibited by all participants. The Rookwood School team, led by Mrs. Heather Blackmore, the School's Head of Drama, demonstrated excellent speaking skills and impressed the judges with their confidence, poise, and excellent debating skills. William, in particular, was recognized for his outstanding performance and was awarded the Best Proposer title for his witty speech, further highlighting the exceptional skills of the Rookwood School team.
"We are incredibly proud of William, Mia, and Sophie for their achievement in the National Youth Speaks Finals," said Mr. Anthony Kirk-Burgess, Head of Rookwood School. "We nurture and develop confidence in public speaking from an early age as we recognise how valuable this skill is for not only its significant impact on building confidence, but to enable pupils to leave us having developed a highly valuable life skill. Their dedication and hard work throughout the four-month competition has paid off, and we are delighted to see them recognized for their exceptional talent."
Commenting on the achievement, Mrs. Blackmore said: "The Rookwood School team were thrilled to make it through to the national finals, particularly given the outstanding speeches from the opposing teams. We were extremely grateful for all the feedback and support from the Rotary Club, in particular the Andover district who have been with us every step of the way."
The Rookwood School community congratulates the pupils and their teacher, Mrs. Blackmore, on their remarkable success in the competition. This achievement is a true reflection of the School's commitment to academic excellence and the development of well-rounded individuals who can succeed in a wide range of disciplines.